Tik Toker Mads Lewis Says About the Tayler Holder Sexual Allegations
Mads Lewis, a popular TikTok user, spoke on the most recent BFFs show about the charges of sexual assault.
Mads Lewis is a well-known Instagram model and social media influencer who has amassed more than 6.8 million followers on her personal Instagram account. She is a part of the Just A House content group as well.
Lewis is well-known on TikTok and Instagram, but she also has a YouTube channel where she posts a variety of content, such as challenges and cosmetic tutorials. In the most recent episode of the BFF pod
cast, the young social media celebrity discussed the charges of sexual assault and is currently receiving a lot of support from the public.
Despite the fact that many individuals are aware of the situation, some of them are still uncertain and uninformed about it. We've now covered the entire situation as well as her most recent comment regarding BFF.
What is happening between Tayler Holder and Mads Lewis?
Mads Lewis went to the BFFs podcast with Bri Chickenfry, Josh Richards, Dave Portnoy, and on September 15, 2022. Her lack of interest in Josh, her new boyfriend and what people are saying about him, the relationship between Dave's girlfriend and Columbia, and the revival of her favorite show "Chicken Girls" were just a few of the things they explored.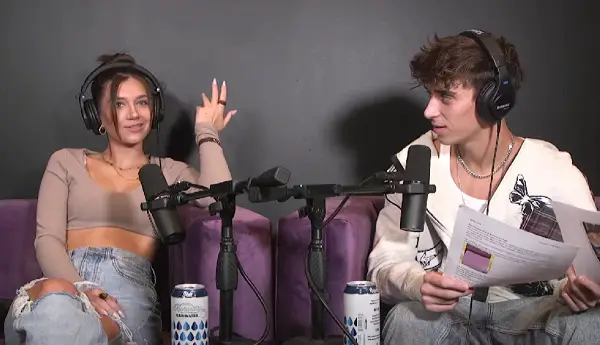 She also discussed Tayler Holder's alleged sexual assault in the podcast. Lewis then made a suggestion that she was one of Holder's alleged victims of sexual assault. Lewis thought the allegations against him were accurate in addition to everything else.
Lewis responded "Yes" when Portnoy questioned if it meant that all of her accusations against Holder were true. As soon as the episode was out, fans of Lewis started to support him online. Additionally, several of them claimed that she was Tayler Holder's victim. Lewis is currently viewed favorably by the public and is receiving their support as a result.
Tayler Holder responds to a statement made by Mads Lewis
In a YouTube video titled addressing the rumors, Tayler Holder reacted to everyone of those comments on September 17. Holder acknowledged in the video that he had never engaged in non-consensual sexual activity with anyone or been with a minor.
Holder discussed the comment made by Mads Lewis in the same video and once more refuted it. You can view his video on YouTube to learn more.
Tayler Holder's Thoughts on Sexual Allegation
This has affected Tayler Holder for a very long time. Holder has faced significant criticism in the past as well due to numerous charges that lingered against him.
Many social media influencers, including his close friends, abandoned him at the beginning of 2022. They also stopped following him on social media. After a while, it became clear that Holder was charged with sexual assault. Despite this, none of the victims of sexual assault came forward. Holder has always refuted all accusations, despite numerous ones.
Trusted Source tells #DramaAlert Tayler Holder will be facing serious allegations from multiple Alleged victims. #DramaAlert is still working to gather all the details. Normally would not even tweet this much at this stage. But Taylor confirmed allegations were made on BFFs. pic.twitter.com/i6Z7WlcfBb

— KEEM 🍿 (@KEEMSTAR) February 2, 2022
Moreover, he spoke with TMZ in May 2022. Holder acknowledged in the interview that he had never been accused in public by a person, an official from law enforcement, or an attorney. Aside from that, the controversy began when Daniel Keemstar, the host of YouTube's Drama Alert, said that Holder had been the target of horrifying accusations from sources.
For your information, Holder also listened to the BBF podcast, where he claimed to be managing all of these issues off-camera.